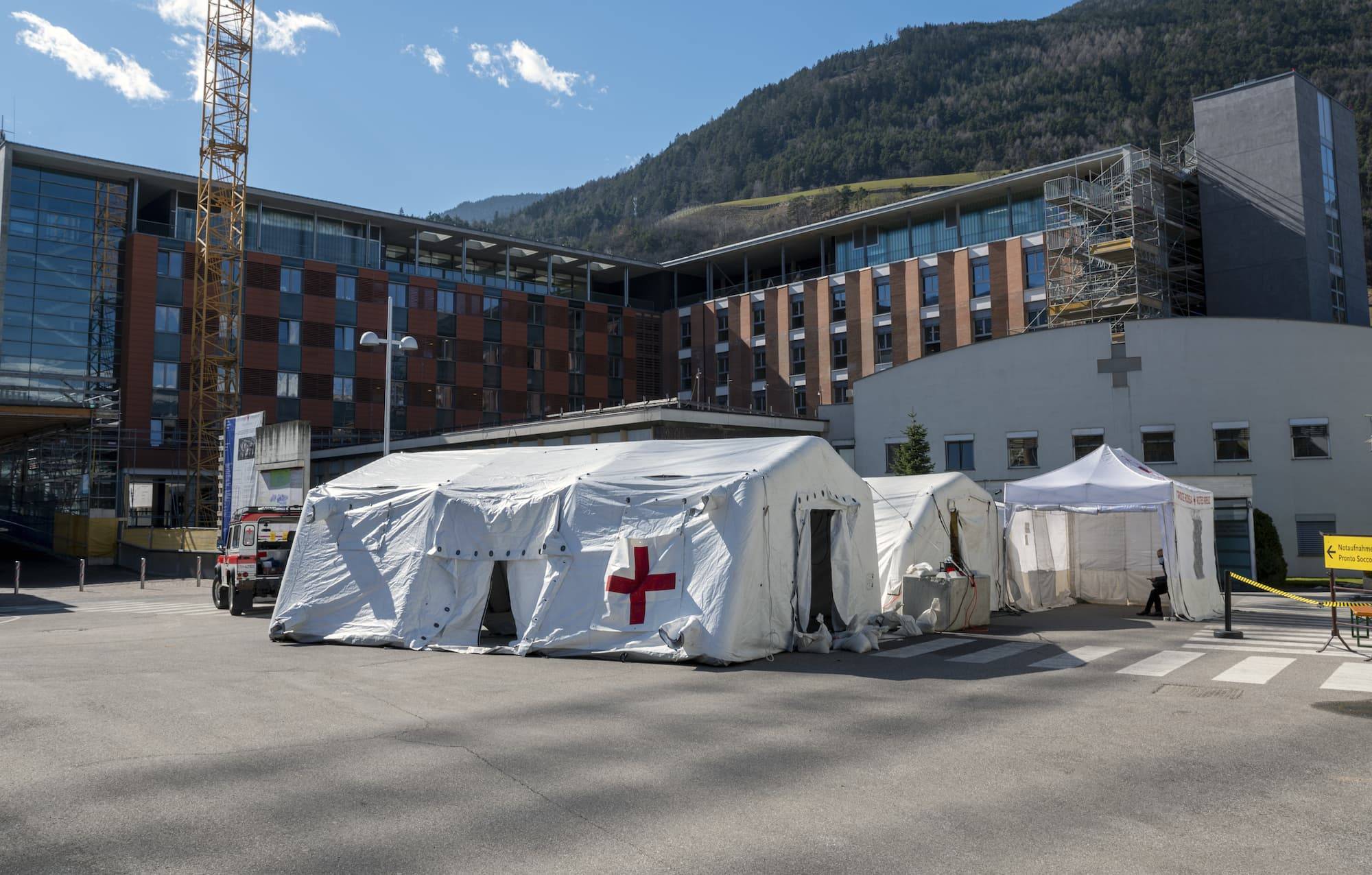 Jon Huddy, MArch, BA, AIA, NCARB
President and Senior ED Designer
Huddy HealthCare Solutions
It's Been Hell, But At Least We're Learning Along The Way
Emergency Department leaders and staff are some of the most creative people I have ever met over my 25+ years of leading ED design teams. It seems like every day the ED staff are re-evaluating how they flow patients through their departments and rethinking how they use their physical space to maximize capacity and throughput. This creativity has been pushed to the max over the last 18 months as EDs have redefined flow and room-uses "on the run" during the COVID19 outbreaks. We are redesigning EDs around the world with new insights to pandemic impacts and a few key items have risen to the surface for immediate consideration for tweaking your current ED or incorporating into your future ED renovation or expansion project.
Exterior Considerations
Many EDs experienced the challenge setting up tents or modular facilities for screening patients outside of their ED, then having to run power, water, air-conditioning/heating and even medical gases to these temporary patient assessment locations. Current ED designs are considering exterior "hook-ups" for such power/air/gas infrastructure to more quickly, and adequately, support the modular care areas or tent structures in the future. We are working with an ED in Australia that is putting multiple power, air and medical gas hook-ups behind drop-down stainless-steel panels near the EMS drop-off area. These panels support patients having access to supporting air/oxygen/gases/power as they are assessed outside of the ED, under the ambulance canopy, prior to moving into the main. The ambulance canopies are being designed with larger curtains that can be deployed to secure heating/air-conditioning to these areas which are now being designed specifically for such capacity-surge event
Redefining Access, Screening and Pathways
While "one walk-in entrance and one EMS/Ambulance" entrance into the ED has been commonplace for years (and preferred by security to limit access points), our ED clients are reconsidering how you can flow "potentially infected" vs. injured/sick/other patient types into the ED facility. In some EDs, the seldom-used decontamination shower was re-imagined as an alternative entry door for potentially infected patients. Not to "decon" the arriving patients, but to allow these patients to be directed to a separate entry "door" away from other public/patients to be utilized for entry and flow into a secure portion of the ED. The quantity and type of "entry" and "exit" points for an ED has always been a struggle of "flow" versus "security," the necessity of defining separate flow paths into the ED is supporting a rethinking of alternative flows during disasters or pandemics. Many EDs are using the concept of not mixing "incoming" vs. "exiting" patients similar to ambulatory surgery centers where the concept is to not have post-surgery patients mix with arriving surgical patients. Are you able to define a separate exit for ED discharged patients so they don't mix with arriving patients in the triage area?
Who Cares What's Above the Ceiling?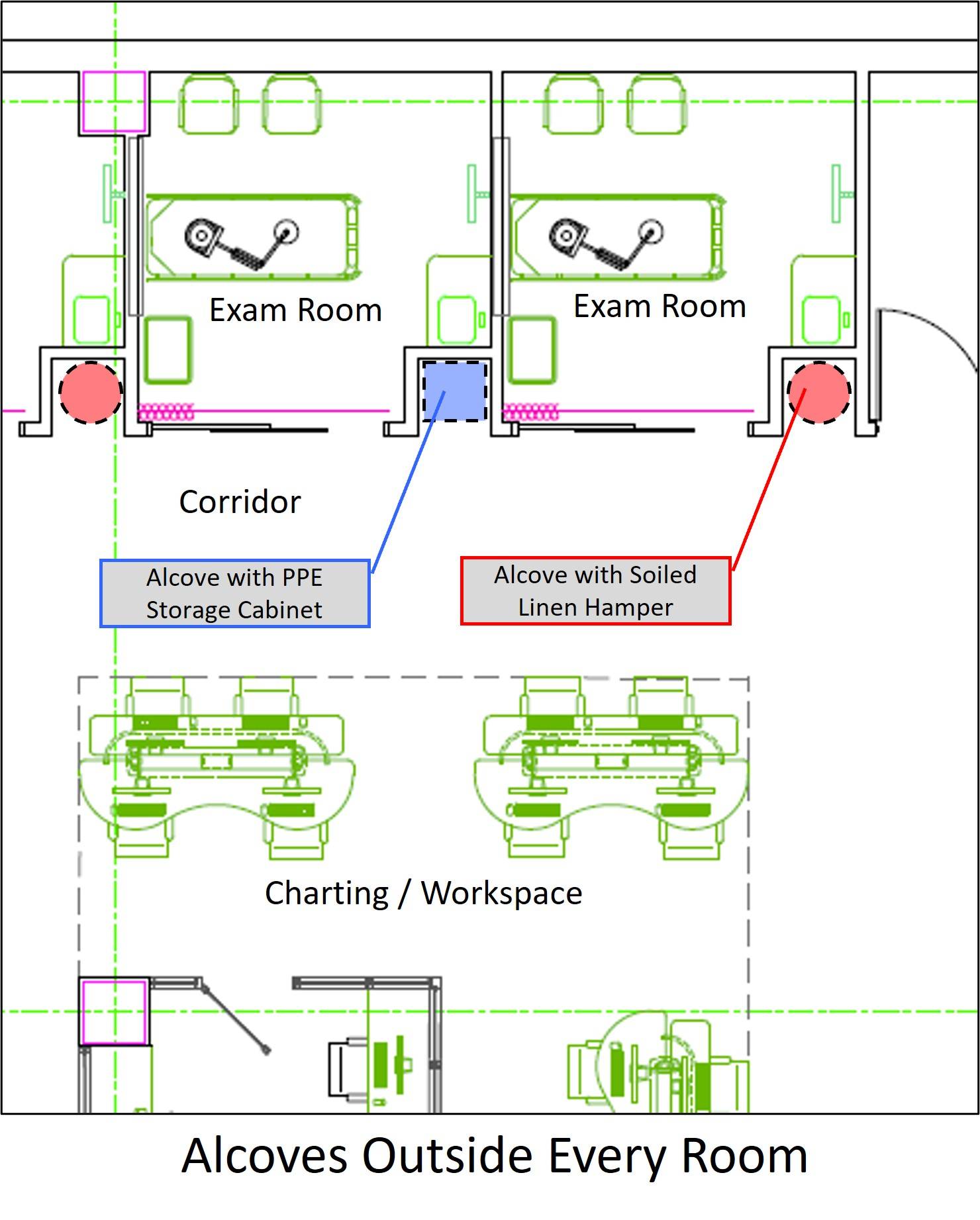 In the past, most of the clinical members on the design team have not concerned themselves with the piping, air-ventilation systems and other infrastructure "above the ceiling" or "behind the walls" as long as they knew where the gas outlets would be on a wall or where the air-isolation exam room will be placed. Now, clinical staff are integral in the decisions of how entire care "zones" can be air-isolated from other care units. The key is to still allow for flexibility between care zones with the options of being able to close off corridor doors and rapidly isolate a "zone" or group of rooms. We don't want to go back to 1980's ED design by building completely-separated care modules, but we do need to consider how take a fully-flexible ED and be able to immediately "isolate" certain areas in support of specific patient populations.
Impacts of Donning and Doffing
We actually foreshadowed the need for extra PPE access and PPE soiled holding by developing, over the past many years, the ability to provide extra alcoves outside of every exam room (see diagram right) for cart and equipment storage. These alcoves were quickly converted to PPE stocking and soiled hampers during the pandemic.
Other COVID19 impacts of donning and doffing is the concept of developed care zones with Clean and Soiled room on the perimeter so they can be utilized as donning/entrance and doffing/exiting paths for the staff. As noted in the diagram below, you can see that the Clean and Soiled Rooms are developed with exterior doors and interior doors allowing staff to move through them whether to access or exit the unit.
Additional Considerations
There are multiple other flow and design considerations being incorporated in support of patients and staff as we continue to confront the pandemic. For additional items to consider, including donning and doffing in staff support spaces, "Main Street" flow concepts allowing appropriate circulation through EDs and other creating items, please access an extended article on COVID19 design considerations for the US and around the world here.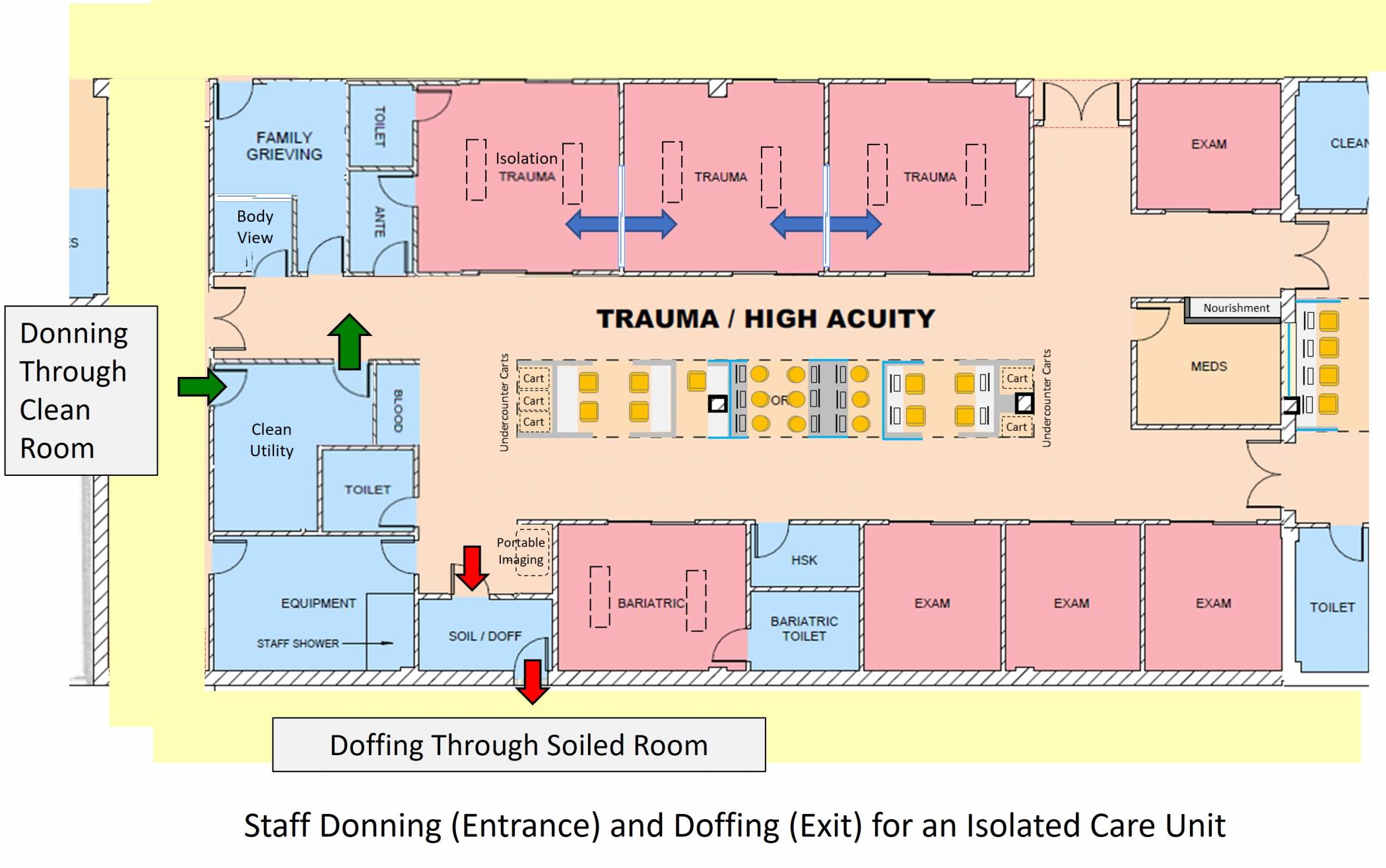 Related Resources